GEMPACK 一般均衡模型软件
GEMPACK(General Equilibrium Modeling PACKage)是一套经济建模软件。 它特别适用于可计算一般均衡(CGE)模型,但可以处理各种经济行为。
GEMPACK使建模人员能够求解非常大的非线性方程组。
一旦使用类似代数的表示法指定了模型方程,建模者就可以从方案处理的计算细节中解脱出来。
GEMPACK软件是计算经济模型的准确解决方案。
所有功能(基本和高级)都有完整的文档。
详细说明(包括许多动手示例)可帮助新用户入门。
GEMPACK Windows程序可帮助您可视化和探索代码,数据和结果。
GEMPACK包含用于求解递归动态和完全跨期模型的强大功能。
当问题被报告时会及时给出反馈。
我们定期举办培训课程。或者,尝试免费的入门级Minimal课程。无需其他软件。
GEMPACK是一种有效的教学工具,适合课堂使用。
GEMPACK在90多个国家的400多个组织中使用(新闻报道)。
GEMPACK不断改进 - 最新版本是GEMPACK 11.4。
GEMPACK的不同版本
受限可执行镜像版(Limited Executable-Image Version)能够处理小型或中型大小的模型,比如单个国家少于40个部门的模型,或多个区域达到9或10个区域和部门的模型。
无限可执行镜像版(Unlimited Executable-Image Version)能够处理任意大小的模型。您只受限于您计算机的可用内存。只有站点授权可用。
源代码版(Source-Code Version)同样能够处理任意大小的模型,而且求解大型模型比无限可执行镜像版要快。另外,您可以重新分发您的模型给其他人。但是需要一个Fortran编译器。只有站点授权可用。
哪个版本符合我的需要?
教学
受限可执行镜像版是用于教学的理想选择,包括在计算机实验室中。我们使用受限可执行镜像版在一些我们的年度课程中。
建模新手
受限可执行镜像版是一个好的开始点。如果您的模型变得太大,您可以升级到无限可执行镜像版或源代码版。
教师或博士生构建您自己的模型
无限可执行镜像版或源代码版都有可能是您的选择。
政策分析
对于使用大型模型的政府部门,研究机构,私营部门组织或学校,源代码版最合适。
软件更新
11.4版(2016年1月)
Release 11.4 includes fixes for several smaller bugs detected during the last year, and it offers several speed-ups, both at compile time (LTG) and at runtime.
Much faster compiling: Some users reported that compile times with Source-code GEMPACK 11.3 (the previous release) and Intel Fortran 15 were very slow when compared to compile times with Intel Fortran 14. For Source-code GEMPACK 11.4 the LTG or compile time has been speeded up by a factor of 3 for GFortran and a factor of 2 for Intel Fortran compilers (running on a quad core Intel CPU). This is achieved by using multiple CPU cores in parallel and in the case of GFortran by also using improved compiler options.
Much faster GEMSIM: We noticed that Source-code GEMPACK users of Intel Fortran 15 and 16 suffered from slow GEMSIM runtimes. We fixed this issue, and as a side-effect have speeded up GEMSIM by 30%-70%, depending on the model used, even when built with other compilers.
For GFortran TABLO-generated EXEs: Improved compiler options have reduced runtimes by up to 30%, particularly for 64-bit exes.
Faster LU decomposition: For the first time, we have introduced some thread-level parallelism. For now, this only affects the LU phase, typically reducing LU times by 20%. The effect is most noticeable for models like GTAP and TERM where the LU phase accounts for half or more of total runtime. We plan to introduce more thread-level parallelism, reducing non-LU times, in later releases.
Source-code GEMPACK 11.4 supports the Intel Fortran compiler versions 13 to 16. The current release is 16; the simplest and cheapest way to obtain it is as part of the package Intel Parallel Studio XE Composer Edition for Fortran Windows while Uni students may qualify for free use.
The table below compares GEMPACK 11.4 compile times (LTG) and model runtimes with those for the previous 11.3 version. We list results for GTAP (which is LU-bound) and MMRF (where non-LU operations dominate runtime). Results are shown for the Intel, GFortran and Lahey/Fujitsu compilers, in each of 32-bit and 64-bit versions where supported. Runtimes are reported for both GEMSIM and Tablo-generated exes.
GEMPACK 11.4 and 11.3 compile times (LTG) and runtimes in seconds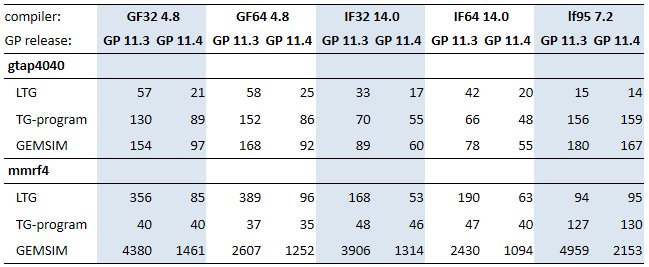 Tests were run on a desktop PC running Windows 7 64-bit with an (quad-core) Intel i7-4770 CPU, 32 GB memory and 512 GB SSD hard drive. Compilers were: GFortran 4.8.1, Intel Fortran 14.0 and Lahey/Fujitsu Fortran 7.2 professional.
A more comprehensive compiler comparison is available on our supported Fortran compilers page.
The table shows striking reductions in LTG times, and useful runtime speedups for LU bound models represented here by the GTAP model. Also noteworthy, free GFortran is marginally faster than Intel Fortran for the Tablo-generated executable program implementation of MMRF.
11.3版
11.3版主要是一个维护更新,修正了一些去年发现的小错误,以及一些基于以往的改进。下面列出了一些改进:
源代码版GEMPACK现在可以和 "Intel Visual Fortran Composer XE 2013 SP1",也被称为"Intel Fortran 14" -最新版Intel Fortran一起工作。
新版本GFortran已经被自定义以用于源代码版GEMPACK。相比先前的GFortran,运行速度有少许提高。LTG阶段则快了很多。
The Condensation Information file now includes an additional Closure section similar to that generated by TABmate's Tools...Closure command, but using runtime set sizes.
Revisions to help files and to the GEMPACK manual, updating obsolete URLs.
图形用户界面(GUI)程序,比如ViewHAR和ViewSOL已有帮助文件。最新更新菜单项列出最新更新,包括:
ViewSOL: A new item on the File menu, Open SL4 file in ViewHAR, lets you view a solution instead in ViewHAR. You might wish to do this if if you wanted to examine results for variables with more than 2 dimensions (subscripts), which are inconvenient in ViewSOL.
ViewHAR is now more forgiving if you try to view a HAR file which is too large to fit in memory. Even if some headers are too large to store and view, smaller remaining headers can still be viewed. There is also a way to view just one header from a HAR file -- which may assist in viewing very large arrays.
TABmate 和 ViewHAR现在默认将删除2天以前的BAK文件。
针对GEMPACK 11.3.004的进一步改进,2015年1月

GEMPACK 11.3.004 includes some bug fixes to correct problems noticed during the last 6 months. The most notable problem concerned display problems on high-resolution screens. Recently some tablet and other PCs have become available which use very high resolution screens. We noticed that some GEMPACK Windows programs did not display properly on such screens, especially under Windows 8. Latest GEMPACK Windows programs have been modified to address this problem.
GEMPACK 11.3.004 now includes support for Intel Fortran 15.0 (Sold as "Intel Parallel Studio XE Composer Edition for Fortran Windows")
GEMPACK (General Equilibrium Modelling PACKage)是一套经济建模软件。它特别适合可计算的一般均衡模型(computable general equilibrium ,CGE),而且可以处理非常大型的经济行为。
GEMPACK使建模者能够求解非常大型的非线性方程
一旦模型方程被使用一种类似符号的语言指定后,建模者就可以摆脱求解过程的计算细节。
GEMPACK软件计算经济模型的准确的解答。
所有的功能(基础和高级)都完全文档化。详细的指令(包括许多手工操作示例)帮助新用户快速入门。
GEMPACK Windows程序包帮助您可视化和探索编码,数据和结果。
GEMPACK 包含了强大的用于求解recursive-dynamic 和 fully-intertemporal 的能力
当出现问题会提示您发送反馈
GEMPACK作为教学工具非常有效,特别是教室使用。
GEMPACK被超过90个国家的超过400个组织使用。
GEMPACK是持续改善的-最新版是GEMPACK 11.2版。
RunDynam
RunDynam是一套帮助对递归动态模型(recursive dynamic models),比如MMRF, MONASH-USA 和 Dynamic GTAP,运行预测和政策偏差的Windows程序包。它不包含在GEMPACK中,需要单独订购。点击了解更多.....
CALL or EMAIL

有关GEMPACK软件的更多信息,请联系我们的销售代表:

400-621-1085

021-50391085

或点击下面的链接直接在线提交购买咨询信息