不同的建模方式
Berkeley Madonna是一个非常快速,通用的微分方程求解器。 它的图形界面提供了一个直观的平台,用于构建复杂的数学模型,使用符号而不是编写方程。 该软件提供了一套图形工具,用于绘制结果。
直观的界面
从工具栏中选择各种图标以快速构建模型,同时自动编写方程式。 单击运行可立即求解方程并绘制结果。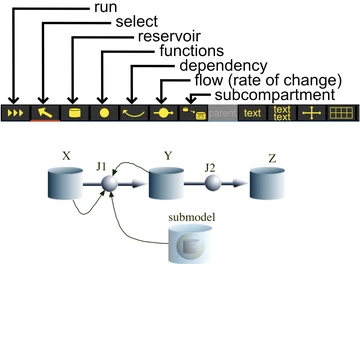 出色的可视化
结果自动绘制,用户可以创建滑块以快速探索更改参数的影响。 其他工具(如参数图和快速傅里叶变换按钮)提供了额外的图形洞察力。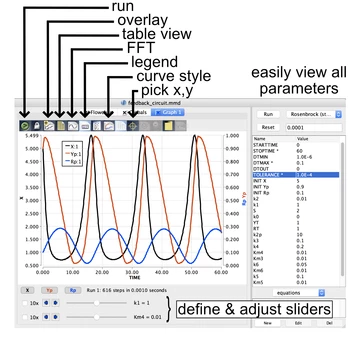 快速执行等
从许多集成方案中进行选择,以解决ODE,差分方程和离散模拟。 使用曲线拟合界面轻松从数据中提取参数估计值,并使用批次运行绘制参数值扫描结果 – 这些只是Berkeley Madonna的一些功能。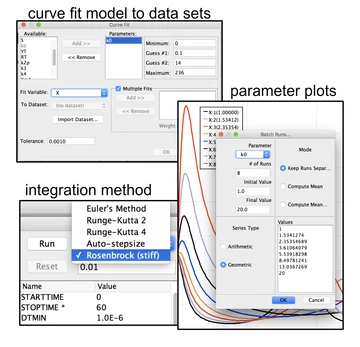 功能特征
Solves:
Ordinary Differential Equations
Difference Equations
Multi-dimensional transcendental algebraic equation roots
Discrete simulations using conveyors, ovens, and queues
Easy to Use:
Type equations directly into equation window in ordinary mathematical notation.
Click Run. Solutions are automatically plotted. Buttons on toolbar allow variables to be toggled on and off the graph.
Special Interfaces:
Flowchart Editor - create models visually with icons and let Berkeley Madonna write the equations.
Chemical Reactions - write chemical equations using conventional chemical notation. Berkeley Madonna will automatically apply the appropriate rate law (e.g., mass action) and generate kinetic equations for you.
Very Fast Execution:
Berkeley Madonna's impressive speed makes it suitable for large-scale systems, stochastic models, curve fitting, root finding, batch processes, parameter plots, stiff systems, etc.
Parameter Exploration:
Change parameter values directly using the parameter window.
Parameter Sliders - move the slider and the model runs instantly and displays the new solution.
Automatic scan of Parameter Space - define a range for a parameter and Berkeley Madonna computes and plots a family of curves spanning the range.
Parameter Plots - select an attribute (min, max, mean, frequency, etc.) of any variable. Berkeley Madonna automatically plots the attribute as a function of a parameter.
Sensitivity Analysis - plots the partial derivative of any variable with respect to any parameter.
Optimization - searches the parameter space for a point that minimizes an arbitrary expression.
Integration Algorithms:
Euler (1st order)
Runge-Kutta (2nd and 4th order)
Adaptive stepsize (4th order Runge-Kutta)
Stiff ODE solver (Rosenbrock)
Custom DT - write your own equations for adjusting stepsize. Allows for stochastic modeling using methods such as the Gillespie algorithm.
Import Experimental Data:
Curve Fitter - estimate parameters by fitting solution to one or more imported data sets.
Other Capabilities:
Fast Fourier Transform - plot results in frequency domain.
Array notation (dimensioned variables)
Hybrid multi-dimensional root solver used to automatically set up steady-state initial conditions. Can also be embedded in integration loops.

CALL or EMAIL

有关订购Berkeley Madonna 软件的更多信息,请联系软件销售代表:

400-621-1085
021-50391087


或点击下面的图片,在线提交购买咨询信息