21版最新更新
最新版的Surfer中有许多很棒的新功能! 我们专注于提高处理速度,优化工作流程以最大限度地提高效率,并且还包括许多令人兴奋的新功能。 下面列出了最重要的新功能。 新功能的更完整列表可以在Surfer版本历史页面上找到。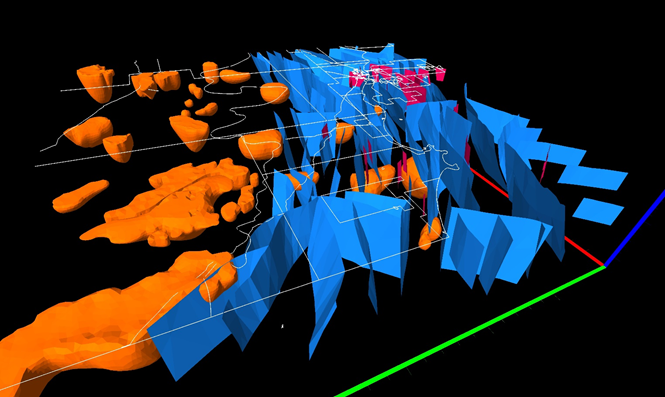 在Surfer的3D视图中显示的断层和矿化体
3D视图改进
1.在3D视图中显示3D多边形,3D折线和3D多边形对象
2D绘图视图和3D视图现在支持3D矢量数据,包括折线,多边形和多边形对象! 能够以真实的3D显示3D DXF,SHP,GPX和更多格式的3D视图中的整个模型变得栩栩如生。 显示岩石序列中的断裂带如何与附近的一些隧道和垂直竖井联系起来,或可视化您的管道网络。 确定断层平面或与曲面相交的其他线。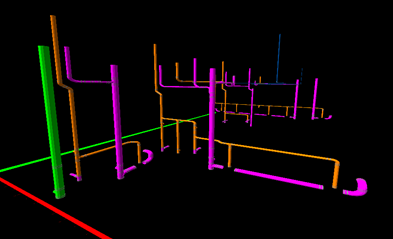 在Surfer的3D视图中显示的DXF格式管线
使用细分的多边形填充为您的图形提供深度和尺寸。 表面将响应环境光照的变化,因此您可以突出显示您感兴趣的区域。 建筑物或其他结构可以DXF格式导入,并放置在DEM或地形表面上。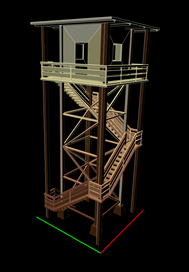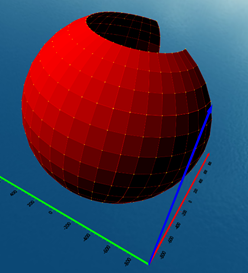 2.导出为3D PDF
从Surfer的3D视图创建交互式PDF时,我们改进了3D PDF导出。 选择导出时的质量。 质量越低,导出速度越快,PDF文件越小。 如果您想要最详细的信息,请选择最高的质量。 您可以选择最适合自己的!
2D改进
3.
计算等高线之间的面积和体积
您不再需要使用脚本或手动计算等高线水平内的体积和面积。 新的等高线体积/面积工具会自动计算您选择的等高线水平之上,之下以及之间的体积和面积。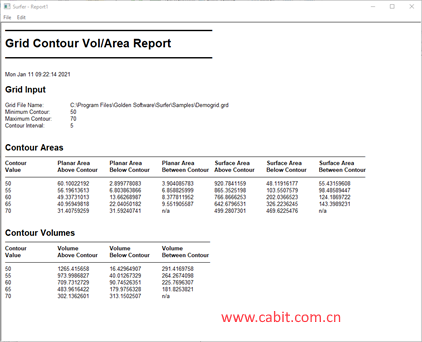 Surfer中的新等高线体积/面积报告
4.无需Alpha通道即可显示高分辨率图像
某些图像可能嵌入了Alpha通道信息,这可能会影响导入图像的颜色,使其看起来褪色或变灰。 现在,Surfer为您提供了忽略任何导入图像的Alpha通道的选项。 忽略alpha通道将以丰富,真实和详细的颜色导入这些图形。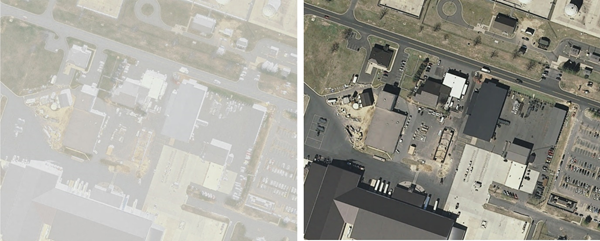 显示带有Alpha通道信息(左)而没有Alpha通道信息(右)的图像

矢量编辑

5. 在2D视图中使用3D折线和3D多边形

使用3D SHP,3D DXF,3D BLN文件(以及更多)在Surfer中进行地理处理和网格编辑功能! 将3D几何图形直接从文件导入基本层。 或者,只需选择或绘制常规2D折线和多边形并将其转换为3D。 通过在Property Manager中编辑顶点的Z值,我们使您的生活更加轻松。

将3D折线和3D多边形与以下网格处理功能一起使用:
分配NoData
等高线网格
计算体积
切片
网格信息
使用3D折线和3D多边形执行以下地理处理功能:
连接折线
在2D和3D之间转换矢量对象
折断折线
重塑
缓冲
6. 可通过自动化获得的新功能
我们在Surfer中将许多新功能添加到了自动化模型中。 Surfer自动化中的新选项包括:
创建或编辑3D多边形
创建或编辑3D折线
ClassedPostLayer现在支持用户界面中的最新改进(例如,设置类名称,颜色图和符号方法,以及保存类文件)
保存网格现在具有一个输出选项字符串,其中包括一个用于保存空间参考信息的选项。
使用GridProject转换网格文件的坐标系
将GridBlank更新为GridAssignNoData,并选择使用现有多边形作为NoData边界
将DMS格式应用于标签
使用PointSample在数据文件中保存的特定XY坐标处计算网格文件中的Z值
7. DXF导出:导出不带ZLEVEL的LWPOLYLINE的选项(2D平面多段线)

将折线,如等高线,导出为DXF格式,作为不带ZLEVEL信息的平面折线,因此您可以在AutoCAD的地图视图中查看等高线。 这对于在AutoCAD中使用等高线图的人很有用。

There are a ton of awesome new features in the latest release of Surfer! We focused on increasing processing speed, optimizing workflows to maximize your efficiency, and we included a lot of exciting new features as well. The top new features are listed below. A more complete list of the new features can be found on the Surfer Version History page.

3D View improvements

1.Display 3D polygons, 3D polylines, and 3D polymesh objects in the 3D View

The 2D plot view and the 3D view now supports 3D vector data, including polylines, polygons, and polymesh objects! Your entire model can come to life in the 3D view with the ability to display your 3D DXF, SHP, GPX, and more formats in true 3D. Show how the fracture zones in the rock sequence relate to some nearby tunnels and vertical shafts, or visualize your pipeline network. Identify fault planes or other lines intersecting with your surfaces.

Give your graphics depth and dimension with tessellated polygon fills. Surfaces will respond to changes in environment lighting so you can highlight your area of interest. Buildings or other structures can be imported in DXF format and positioned on your DEM or topographic surface.

2.Exporting to 3D PDF

We've improved the 3D PDF export when creating interactive PDFs from the Surfer's 3D View. Choose the quality upon export. The lower the quality, the faster the export and smaller the PDF files. If you want the most detail, choose the highest quality. You can choose what works best for you!

2D improvements

3.Calculate area and volume between contours

You don't need to use a script or manually calculate volumes and areas within contour levels anymore. The new Contour Volume/Area tool automatically calculates the volume and area above, below, and between the contour levels of your choosing.

4.Display high resolution imagery without the alpha channel

Some imagery may have embedded alpha channel information, which can affect the colors of an imported image, making it look faded or grey. Now Surfer gives you the option to ignore the alpha channel for any imported image. Ignoring the alpha channel will import these graphics in rich, true and detailed color.

Vector editing

5.Work with 3D polylines and 3D polygons in the 2D View

Use 3D SHP, 3D DXF, 3D BLN files (and more) for geoprocessing and grid editing functions in Surfer! Import 3D geometry directly from your files into a base layer. Or, simply select or draw regular 2D polylines and polygons and convert them to 3D.We've made your life easier with the ability to edit Z values for the vertices right in the Property Manager.

Use 3D polylines and 3D polygons with the following grid processing functions:
Assign NoData
Grid from Contours
Calculate Volume
Slice
Grid Info
Use 3D polylines and 3D polygons to perform the following geoprocessing functions:
Connect polylines
Convert vector objects between 2D and 3D
Break polylines
Reshape
Buffer
6.New functions available via automation
We've added a lot of the newer functionality in Surfer to the automation model. New options in Surfer automation include:
Create or edit 3D polygons
Create or edit 3D polylines
ClassedPostLayer now supports recent improvements made in the user interface (e.g. setting the class name, colormap, and symbol method, and saving the class file)
Saving grids now has an output options string, including an option to save the spatial reference information.
Use GridProject to convert the coordinate system of a grid file
Update GridBlank to GridAssignNoData, with an option to use an existing polygon as the NoData boundary
Apply DMS formatting to labels
Use PointSample to calculate the Z values in a grid file at specific XY coordinates saved in a data file
7.DXF Export: option to export LWPOLYLINE with no ZLEVEL (2D flat polylines)
Export polylines, such as contours, to DXF format as flat polylines with no ZLEVEL information, so you can view your contours in map view in Autocad. This is useful for people working with contour maps in AutoCAD.
CALL or EMAIL

有关订购Surfer软件的更多信息,请联系我们的产品销售代表:

400-621-1085
021-50391087


或点击下面的图片,在线提交购买咨询信息