SmartPLS是一套用于偏最小二乘结构方程建模(partial least squares structural equation modeling (PLS-SEM))的软件包。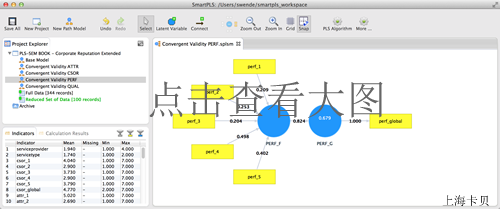 SmartPLS让您可以执行:
Partial least squares (PLS) path modeling algorithm (including consistent PLS)
Ordinary least squares regression based on sumscores
Advanced bootstrapping options
Blindfolding
Importance-performance matrix analysis (IPMA)
Multi-group analysis (MGA)
Hierarchical component models (second-order models)
Nonlinear relationships (e.g. quadratic effect)
Confirmatory tetrad analysis (CTA)
Finite mixture (FIMIX) segmentation
Prediction-oriented segmentation (POS)
等等。。。。。
Lift the Treasure of Your Data
The intuitive graphical user interface lets your create pretty path models with SmartPLS in minutes.
Do you want to stay on top of your files? Our Project Explorer helps you organizing your data and models efficiently in separate projects. You can easily export, import and archive your projects when using SmartPLS.
You find all information that you need to assess the outcomes and to competently write-up your paper in the SmartPLS results reports. They are well-organized and provide a good orientation. You can export all results to Excel, HTML or R.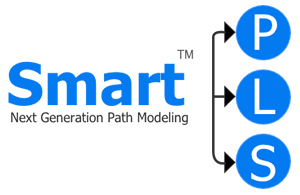 版本区别
| | | | |
| --- | --- | --- | --- |
| | 学生版 | 专业版 | 企业版 |
| 数据集 | 最多100行 | 不限 | 不限 |
| 项目 | 不限 | 不限 | 不限 |
| 导出结果到Excel,R和HTML | | | |
| 复制结果表格到剪切板 | | | |
| 导出图形化模型 | | | |
| 访问所有算法 | | | |
| 优先技术支持 | | | |
| 方法支持服务(最多8小时) | | | |
| 结果预览服务(最多8小时) | | | |
| 通过Skype的个别支持 | | | |
| | 免费 | 咨询我们 | 咨询我们 |
软件试用
我们提供免费的全功能SmartPLS 3.17版试用版软件下载,如需下载,请点击下面的图片,在线提交试用申请信息。
如有安装问题,请通过左侧联系方式和我们联系。