| | |
| --- | --- |
| | E-Prime - 实验刺激呈现软件|心理学实验设计软件 |
美国PST公司开发的 E-Prime 软件是一套针对心理与行为实 验的计算机化的实验设计、生成和运行软件。 E-Prime 可以让您在设计实验时,只需选取所需的实验功能图标,然后把图标用鼠标拖动到实验程序内,就能在很短的时间内建立复杂的实验程序。用 E-Prime 设计并运行的实验,其刺激呈现及反馈信号的时间精度达到了毫秒。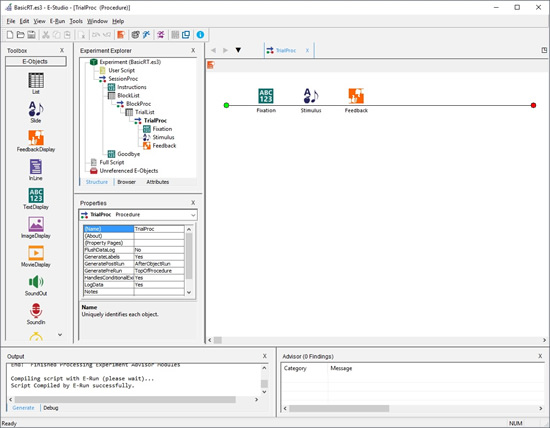 E-Prime 能呈现的刺激可以是文本、图像、视频和声音(可以呈现多种刺激的任意组合),提供了详细的时间信息和事件细节(包括呈现时间、反应时间、按键值等),可导出为文本格式的原始数据供进一步分析。 E-Prime 易学易用,功能强大,实验生成快速且精确。
E-Prime® is the most comprehensive software available for behavioral research. Build your own experiments using E-Prime's easy-to-use graphical interface. Design, collect, and analyze data - all within a few hours! With more than 100,000 users in research institutions and laboratories in over 60 countries, E-Prime is the world-leading behavioral experiment software. E-Prime provides a truly easy-to-use environment for computerized experiment design, data collection, and analysis. E-Prime provides millisecond precision timing to ensure the accuracy of your data. E-Prime's flexibility to create simple to complex experiments is ideal for both novice and advanced users.
E-Prime v3.0版模块:
E-Studio - Drag and drop graphical interface for experiment design.
E-Basic - Underlying scripting language of E-Prime (nearly identical to Visual Basic for Applications™).
E-Run - Once experiment design is complete, a single mouse click generates it into an E-Basic script. E-Run then affords you the millisecond precision of stimulus presentation, synchronizations, and data collection.
E-Merge - Quickly and easily combines your single session data files for group analysis.
E-DataAid - Data management utility that allows you to filter, edit, analyze, and export your data.
E-Recovery - Recovers data files in the event of early terminated experiments, or lost or corrupted files.
包含以下模块:
E-Studio:可视化实验设计环境,只需简单地拖拉图片、声音、视频等标准化模块并设置其属性即可方便地设计您的实验。
E-Basic:语法结构类似于Visual Basic的脚本语言,可实现某些E-Studio不易实现的非标准化操作。
E-Run:可将E-Studio编译为E-Basic脚本语言并运行。
E-Merge:用于多任务数据融合。
E-DataAid:数据管理器,用于数据的筛选、编辑和导出。
E-Recovery:用于恢复程序非正常终止时的数据。

E-Prime 3.0版最新更新
Support for tablets and touchscreens
SlideButton sub-object for an area of response collection without using script
SlideChoice sub-object to design multiple choice surveys, recognitions, recalls
SlideSlider sub-object to design scales and sliders
Slide Layout Templates for quick design
Improved interface with tabbed workspace and easier access to windows
Find and replace properties in an experiment
Run an experiment in a floating window for quicker inspection and debugging
Run desired List rows at runtime with Interactive order selection
Interactively run List rows for debugging purposes
Create conditional Task Events using subroutines in User Script
Improved Audio/Video playback and load times
Start an experiment from any List object
Play movie and audio files in additional formats
Online Experiment Library
E-Prime Command Reference and online documentation
New experiment design templates
Access Full and User Script in the Structure window
Automatically generate text data files upon completion of experiment
Save a definition of columns of interest in E-DataAid
Correct, Incorrect, Omission Task Events
Check for Update checks web and prompts when updates are available
系统需求
E-Prime v3.0兼容:
Windows® 10 64位
Windows® 8/8.1 64位
Windows® 7 SP1 32 和 64位
最少
推荐

Pentium i3 处理器 2GHz或更高
2GB 内存
DirectX™ 视频卡
USB端口

Pentium i7 处理器 2GHz 或更高
4GB 内存或更多
DirectX™ 11 视频卡(128MB内存或更多)*
Chronos®或Core Audio声卡兼容音频演示
USB端口
网络连接**
*DirectX 11硬件加速需要Windows 8 和 Windows 10
**仅用于安装和设计目的。不推荐在数据搜集过程中使用
相关产品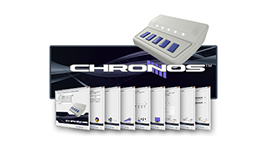 Chronos
一款强大的新的基于USB的响应搜集和刺激设备.点击了解更多...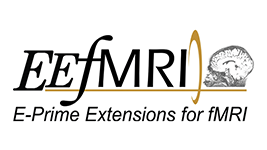 E-Prime Extensions for fMRI
优化E-Prime实验以用于fMRI研究.点击了解更多...

E-Prime Extensions for Tobii Pro 3.1
将E-Prime的强大功能与易于使用的Tobii Pro眼动仪相结合.3.1版发布!点击了解更多...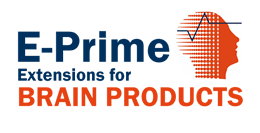 E-Prime Extensions for Brain Product
Brain Products™软件的E-Prime®扩展旨在优化E-Prime与Brain Products脑电图系统的实验交流。 同步您的E-Prime实验时间测定与您的EEG数据等 点击了解更多...
CALL or EMAIL

有关E-Prime软件的更多信息,请联系我们的产品销售:

400-621-1085(赵先生 606分机)
021-50391087


或点击下面的按钮,在线提交询价留言信息