Design-Expert 13 for Windows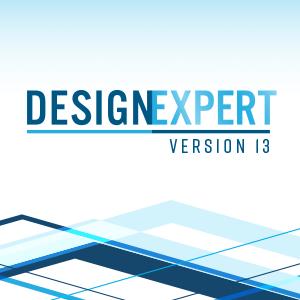 轻松进行实验设计(DOE)
使用Design-Expert软件对您的产品和过程进行突破性的改进。 筛选重要因素和组成部分,表征相互作用并最终获得最佳工艺设置和产品配方。 在交互式2D图形上设置标记并浏览轮廓图; 然后使用可旋转的3D图从各个角度可视化响应曲面。 最后,最大程度地同时满足所有响应的需求,并将其叠加以查看符合所有规范的"最佳位置"。 Design-Expert使应用强大的多因素测试工具变得异常简单。 尝试一下,看看它能如何加快您的研究并取得巨大的成功。
我们欢迎您将Design-Expert软件用于实验设计(DOE).使用这个基于Windows的程序来最优化您的产品和过程。它提供许多强大的统计统计,比如:
两水平因子筛选设计:确定影响您的过程或产品的重要因素,以便您可以取得突破性的改进.
一般因子研究:发现分类因素的最佳组合,例如原材料供应的来源与类型。
响应曲面方法(RSM):找到达到性能最优时的最佳过程设置
混料设计技术:发现适合您的产品配置的理想配方。
过程因子,混合组件和分类因子的组合:混合蛋糕(使用不同的配料)并烘烤!
Design-Expert提供可旋转的3D图形,方便全角度查看响应曲面。使用您的鼠标在交互式2D图形上设置标志和探索等高线。数值最优化功能会同时为大量的响应找到最大期望。
使用Design-Expert软件对产品或流程进行突破性改进。 您不仅可以筛选重要因素,还可以找到最佳性能的理想工艺设置,并发现最佳产品配方。 通过可旋转的3D绘图轻松查看各个角度的响应曲面。 在交互式2D图形上设置标记并探索轮廓; 并使用数值优化函数同时找到数十个响应的最大可取性。
分析您的数据
Design-Expert使您可以轻松地查看什么(如果有的话)具有统计意义,以及如何最精确地对结果建模。 它提供了您需要呈现的置信区间,也许还可以发布您的发现。 请使用该软件随附的一个或多个数据集进行测试。
可视化您的结果
Design-Expert提供了广泛的图形选择,可帮助您识别出色的效果并可视化结果。 当您将您的发现传达给主管和同事时,其输出会给人留下深刻的印象。 立即下载免费试用版,浏览"帮助"下提供的响应面教程,亲自体验一下。
设计类型
13版包含如下实验设计类型:
欢迎您使用Design-Expert软件(DX12)的12版进行实验设计(DOE)。 在Microsoft Windows和Apple macOS上使用DX12优化产品或过程。 它提供了许多强大的统计工具,例如:
Two-level factorial screening designs: Identify the vital factors that affect your process or product so that you can make breakthrough improvements.
General factorial studies: Discover the best combination of categorical factors, such as source versus type of raw material supply.
Response surface methods (RSM): Find the optimal process settings to achieve peak performance.
Mixture design techniques: Discover the ideal recipe for your product formulation.
Combinations of process factors, mixture components, and categorical factors: Mix your cake (with different ingredients) and bake it too!
Design and analysis of split plots: Make your experiment far easier by grouping hard-to-change process factors and/or mixture components
Logistic Regression for analysis of binary data: Is your process pass/fail Are you measuring the presence or absence of something You can now analyze those responses using logistic regression, so you can make predictions about the probability of an event at a given set of inputs.
Your Design-Expert program offers rotatable 3D plots to easily view response surfaces from all angles. Use your mouse to set flags and explore the contours on interactive 2D graphs. Our numerical optimization function finds maximum desirability for dozens of responses simultaneously!
You'll find a wealth of statistical details within the program itself via various Help screens. Take advantage of this information gold-mine that is literally at your fingertips. Also, do not overlook the helpful annotations provided on all reports.
Logistic Regression for Binary Responses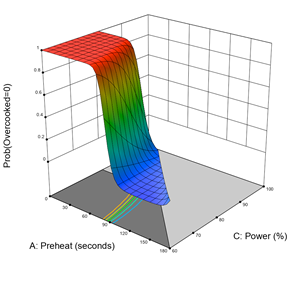 When results can only be binomial, for example; 0 or 1 for pass versus fail, standard model-fitting falls short. Logistic regression works far better by predicting the probability of success or failure, as shown in the plot of a surface-to-air (SAM) missile test.
"The development work that we do at my company often requires 0/1 assessments. This will be a tremendous help for us."
– Jason Pandolfo, Development Chemist, Quaker Chemical
Kowalski-Cornell-Vining (KCV) models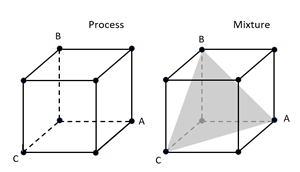 Experiments that combine mixture components (such as a cake recipe) with process factors (baking conditions, for example) require too many combinations when fitted to traditional crossed (mixture x process) models. By eliminating superfluous high-order terms, KCV models greatly reduce the number of required runs, with appreciable savings in time, materials and money.
3D Scatterplot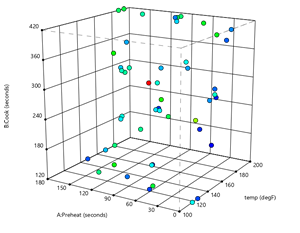 Rotatable 3D scatterplots (shown) and other enhancements make it easier than ever to visualize your raw data before digging deep with Design-Expert's powerful modeling tools.
Histogram Plot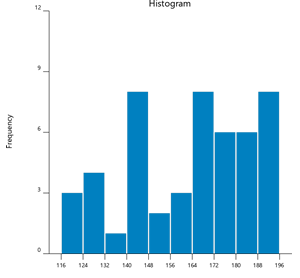 In the Graph Columns node there is a new Histogram graph option. You can customize the number of bins, and choose to display frequency, density, or proportion on the Y axis.

Graph Notebook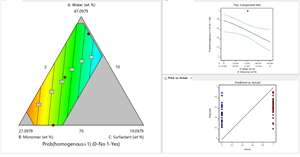 The single-graph view in the Model Graphs tab has been replaced with a notebook. Lay out multiple graphs on one screen to provide a compelling at-a-glance view of your modeled responses.
New Contrast Options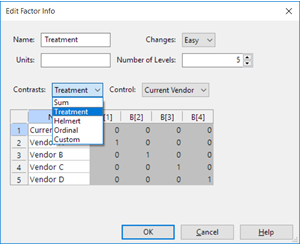 New contrast options are available for categoric factors. This includes Treatmentcontrasts, which allow you to directly compare the effect of the different categoric levels with a reference level.
系统需求
组件
最小配置
处理器
1GHZ
硬盘
250MB剩余空间
RAM
2GB
显示器
1024x768
操作系统

Windows 8, 8.1 or
Windows 10
macOS 10.12 or higher
CALL or EMAIL

有关Design-Expert软件的更多信息,请联系我们的产品代表:

400-621-1085
021-50391087


或点击下方按钮,在线提交购买咨询信息