UCINET是一套由Steve Borgatti, Martin Everett 和 Lin Freeman开发的社会网络分析程序包。UCINET配合NETDRAW一起用于可视化网络工作。NETDRAW随UCINET一起自动安装。
Version 6.691 | 19 Dec 2019
Fixes
Fixed bug in matrix editor when exporting to Excel -- previously it was adding a blank row and column
Version 6.690 | 5 Dec 2019
Fixes
fixed centralization scores for ard in cli command centralization
Version 6.689 | 2 Nov 2019
Fixes
Fixed Network|Subgroup|F-Group, which was crashing when printing output for larger datasets.
Version 6.643 | 8 Nov 2017
增加导出ego网络到Excel文件的功能。见Data|Export|Export egonets to Excel
Version 6.642 | 4 Nov 2017
修正在Tools|Consensus analysis中的一个错误。When using the rectangular matrices option, the program was producing the wrong answer key matrix.
Version 6.640 | 5 Oct 2017
Added beta test version of new routine for imputing network ties. Find it under Transform|Znidarsic et al Imputation of Ties. The methods are drawn from Anja Znidarsic, Patrick Doreian, and Anuska Ferligoj. 2017. Treating missing network data before partitioning. In P. Doreian, V. Batagelj, A. Ferligoj Advances in Network Clustering and Blockmodeling, June 22, 2017 12 : 04. John Wiley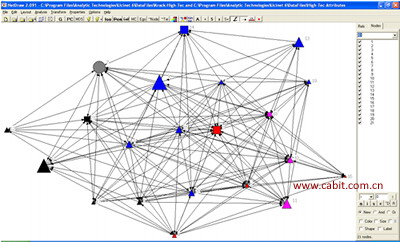 功能
UCINET是一套用于社会网络数据和其他1-模(1-mode)及2-模(2-mode)数据分析的软件包。可以读写多种不同格式的文本文件以及Excel文件。能够处理最大32,767个节点(node),尽管从实际上说大多数的过程大多为5000到10000个节点。社会网络分析(social network analysis)方法包括权重测量(centrality measure),组识别(subgroup identification),角色分析(role analysis),图论基础(elementary graph theory)和基于置换的统计分析。另外软件包有很强的矩阵分析能力,比如矩阵代数和多变量统计。 集成到UCINET中的NetDraw程序包用于画出社会网络图形。另外图形能够导出数据到Mage 和Pajek。
UCINET 6 for Windows is a software package for the analysis of social network data. It was developed by Lin Freeman, Martin Everett and Steve Borgatti. It comes with the NetDraw network visualization tool.

If you use the software, please cite it. Here is a sample citation:

Borgatti, S.P., Everett, M.G. and Freeman, L.C. 2002. Ucinet for Windows: Software for Social Network Analysis. Harvard, MA: Analytic Technologies.
系统需求
Windows operating system Vista or later. If you have a Mac or Linux, you can run UCINET via BootCamp, VMFusion Ware, Parallels or Wine. See our FAQ on this.
The 32-bit version is the standard one and runs on both 32bit and 64bit Windows systems. A limited 64-bit version is available but does not have all UCINET functions
100mb of disk space for the program itself (not including your data)
The more RAM the better, but the 32-bit version can't take advantage of more than 3GB of memory. If you have large data and a 64-bit version of Windows, you can try experimental 64-bit version, in which case 8GB of RAM or more would be useful. Remember, however, that even if a really large dataset fits in memory, it may take too long to analyze.
While the absolute maximum network size is about 2 million nodes, in practice most UCINET procedures are too slow to run networks larger than about 5000 nodes. However, this varies depending on the specific analysis and the sparseness of the network. For example, degree centrality can be run on networks of tens of thousands of nodes, and most graph theoretic routines run faster when you have very few ties, no matter how many nodes you have.
CALL or EMAIL

有关UCINET软件的更多信息,请联系我们的销售代表:

赵先生(Frank Zhao 606分机)

400-621-1085

021-50391087

或点击下面的链接直接在线提交购买咨询信息